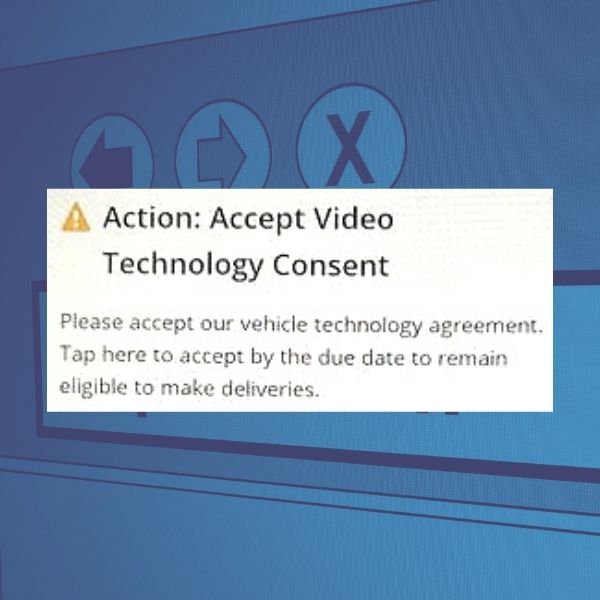 Across the country, Amazon delivery drivers are receiving the message pictured above. Within a few weeks of approving the message, they report coming to work to find new cameras installed in their cabs. Those who refuse to grant permission are reportedly off boarded (fired).
Drivers report that as awful as the experience has been driving with Mentor on board, the cameras, in addition to Mentor, make driving unbearable. While the cameras are implemented under the guise of improving safety, there is no explanation of how having a camera pointed directly at a driver makes anyone safer.
"If this were about safety," said Iowa Teamsters Local 238 Secretary Treasurer, Jesse Case, "they would simply lower the demands on the drivers. It is the Amazon package count and constant pressure to deliver ever faster with as few drivers as possible that makes the work unsafe, and cameras won't change anything about that dynamic."
In addition to the often seemingly bizarre metrics tracked by Mentor, the new cameras will track such metrics as failure to make complete stops, speeding, distracted driving, hard braking, hard acceleration, hard cornering, high G forces, seatbelt compliance, U-turns, driver drowsiness (includes yawning!), and of course, obstructing the camera.
What has not been reported on is how drivers who are currently only allowed time to urinate in bottles, will be able to relieve themselves at all.
While many drivers simply say the cameras will be the final insult and cause them to quit, others view it as just one more reason why they are organizing through Workers Essential. Right now, joining Workers Essential is as simple as filling out the 10 minute survey. Joining links you with hundreds of Amazon and Amazon DSP workers throughout Iowa who are ready to fight for change.